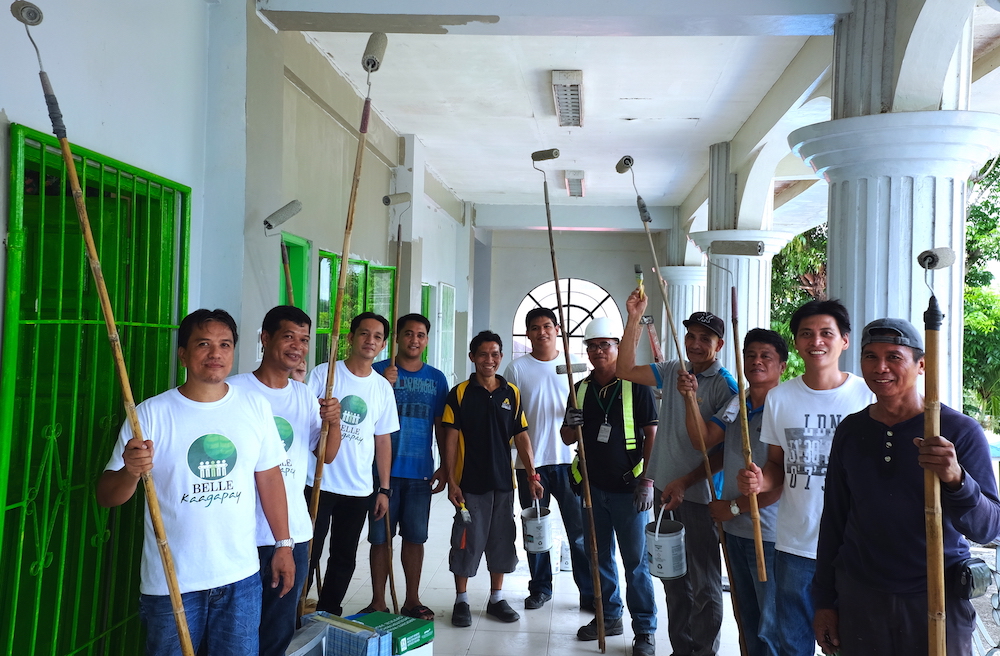 Belle Kaagapay, the corporate social responsibility arm of Belle Corporation, continued its support of the Brigada Eskwela, which is now on its 16th year, by providing manpower, tools and supplies anew for the refurbishing of school classrooms and facilities. On May 31, 2019, Belle Kaagapay volunteers repainted walls and ceilings and helped Dona Maria Laurel Platon Elementary School win in the Department of Education's Brigada Eskwela Area Level Competition. Photo shows this year's volunteers holding their painting tools high and making the classrooms conducive to learning.
Belle Kaagapay volunteers buckle down to work.
About Belle Corporation
Belle Corporation is a developer of tourism and leisure destinations in the Philippines. Its principal asset is the City of Dreams Manila in PAGCOR Entertainment City by Manila Bay, which is being leased on a long-term basis to Melco Resorts and Entertainment (Philippines) Corporation (Melco). In addition to lease income, Belle is accorded a share in revenues or earnings from City of Dreams Manila's gaming operations through the operating agreement between its 78.7%-owned subsidiary, Premium Leisure Corp. (PLC), and Melco. Belle also owns approximately one hectare of presently undeveloped land across from the City of Dreams Manila site.
South of Metro Manila, Belle owns significant real estate assets and develops premium residential resort projects around Tagaytay City. Among its exclusive destinations are the club and golf facilities and residential communities of Tagaytay Highlands and Tagaytay Midlands, as well as a further 800 hectares intended for future development.